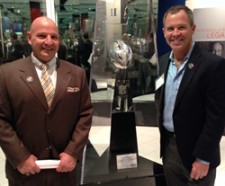 An Indiegogo campaign has been developed to raise money for wounded or traumatized veterans of the US Military. The "Halos for Heroes" campaign will be announced today at Parker Seminars Chiropractic Expo in Las Vegas. http://HalosForHeroes.info
Online, January 28, 2015 (Newswire.com) - When Doctor Tim Novelli, DC of the Patriot Project, and Allen Braswell, CEO of Magneceutical Health, began talking in 2014, they both thought that there was a way to provide our Wounded Veterans better access to Magneceutical Health's innovative magnetic resonance therapy.
Dr. Novelli, whose Patriot Project was already providing chiropractic care to Military Veterans at no charge, was constantly looking for alternative therapies that didn't involve drugs, shots, or surgeries. He ultimately purchased a Magnesphere System for his chiropractic practice in Canton, Ohio. Dr. Novelli noticed that the new technology was helping the Veterans he treated cope with their pain, traumatic brain injury, and PTSD symptoms. HalosForHeroes.info
Dr. Novelli (recently awarded the Ohio State Chiropractor of the Year) said, "We were having such great results, I felt like I had seen the future of healthcare and it was called the Magnesphere."
Dr. Novelli knew that he must provide a way for Veterans to get access to this technology at their homes with the home-based version of the system called the "Halo." Thus the "Halos for Heroes" campaign idea was born, added Magneceutical CEO Allen Braswell.
Finding a way to get this innovative technology into the homes of military veterans, many of whom are already struggling financially, was the next hurdle. Braswell, thought a crowd sourcing fund raise might be the solution.
"Given the recent interest in alternative therapies by the Veterans Administration (VA), in addressing the problem with prescription drug usage by our Military personnel (www.washingtonpost.com/politics/at-va-exploring-alternative-therapies-for-chronic-pain-and-other-ailments/2014/10/15/78dc33d4-4fc2-11e4-babe-e91da079cb8a_story.html), I knew the time for our technology had arrived," continued Braswell.
After much due diligence, Indiegogo was chosen as the platform for this project. The new campaign will be announced at the Parker Seminars "Turn Up the Volume" Las Vegas Chiropractic Expo. Magneceutical has an exhibit space Booth #100 at the show.
The crowdsourcing fund raising also starts today. Rewards range from Collectors Coins to free test drives of the Halo unit for your own home. Go to: www.indiegogo.com/projects/halos-for-heroes/x/9384178#home to find out more or donate.
About Magneceutical Health: www.Magneceutical.com
Led by Allen Braswell, (and its Founder, Dr. Jerry Jacobson) Magneceutical Health™ is a company in the complementary and alternative medicine market that is dedicated to helping people improve their health and wellness by enhancing the "relaxation response" through the use of natural and holistic magnetic fields, without drugs, shots, or surgery. We want to find solutions to help people manage the stress, strains, and pains, of life.
About Patriot Project: www.patriot-project.org/
The Patriot Project was founded by Dr. Timothy P. Novelli (DC ) of North Canton, Ohio. Named Ohio Chiropractor of the year for 2014, Novelli has treated many professional and Olympic athletes from around the world, including working as a chiropractor for the Cleveland Browns. The Patriot Project, which brings free chiropractic care to members of the military service, veterans and their families has over 800 chiropractic physicians spread across all 50 states.
Source URL: http://prweb.com/releases/HalosforHeroes/01/prweb12445838.htm
Share: