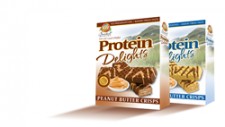 Protein Delights make the perfect, on‐the‐go snack for consumers looking to satisfy food cravings between meals or needing a quick source of energy to get through the day.
Online, August 26, 2015 (Newswire.com) - Sunbelt® Bakery, maker of delicious granola snacks that have a bakery‐fresh taste with no preservatives or high fructose corn syrup, is changing the expectation of how protein bars should taste with the launch of its new line of protein bars that feature a rich, indulgent taste unlike any other protein bar on the market today.
The new Protein Delights are individually wrapped wafer bars that also contain a good source of protein (six grams), whole grain wheat and no preservatives - making them an ideal protein bar for consumers looking for a delicious snack to satisfy their food cravings or provide a quick source of energy to get through the day.
"Sunbelt Bakery is known for its delicious snacks with a bakery‐fresh taste that everyone loves to eat.
Our Protein Delights are no different as the deliciously light, yet rich taste of these whole wheat wafers
will forever change the expectations of how protein bars should taste," said Jeff Badger, brand director
for Sunbelt Bakery. "But, our Protein Delights are much more than a tasty snack. They also have good
nutritional value with six grams of protein, whole grain wheat, no preservatives, no high‐fructose corn
syrup, and only 190 calories per serving - all of which help make Protein Delights the perfect, on‐the‐go
snack for everyone's balanced diet."
Badger continued, "The dietary guidelines for Americans tell us that protein provides important amino
acids that assist in building and preserving body muscle. In addition, protein can also help satisfy hunger
and provide a quick source of energy before a workout. More and more Americans are choosing snacks
containing protein for these reasons."
Sunbelt Bakery will offer two flavors for its Protein Delights: Peanut Better Crisps, which feature the
scrumptious taste of peanut butter layered between crisp whole grain wafers, and Fudge Dipped Peanut
Butter Crisps, which feature the same crisp whole grain wafers baked with layers of peanut butter and
coated in fudge.
Protein Delights are available today at retailers nationwide and have a suggested retail price (SRP) of
$2.99. To find the nearest retailer where you can purchase Protein Delights, please click here to visit
Sunbelt Bakery's product locater.
To learn more about Sunbelt Bakery and its wide variety of delicious, bakery‐fresh and no preservative
snacks that consumers can feel good about eating and serving to their family and friends, please visit
www.SunbeltBakery.com or find the brand on one of the following social media pages: Facebook:
Facebook.com/SunbeltBakery | Twitter and Instagram at @SunbeltBakery | Pinterest:
Pinterest.com/SunbeltBakery.
About Sunbelt Bakery
McKee Foods, a family‐owned company based in Collegedale, Tenn., introduced the Sunbelt brand in 1982. The Sunbelt Bakery brand includes cereal and snack products, including chewy granola bars, fruit and grain cereal bars, and cereals. To learn more about Sunbelt Bakery snacks and cereals, visit www.SunbeltBakery.com.
Or Contact Vince Butler
The Johnson Group, Public Relations Manager
436 Market Street Chattanooga, TN 37402
(423) 424-3068
(423) 290-1470
(800) 522-4499
www.johngroup.com/
vbutler(at)johngroup(dot)com
Source URL: http://prweb.com/releases/SunbeltBakery/Snacks2015/prweb12928417.htm
Share: