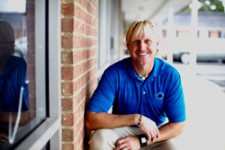 Charlotte, NC Community Center, Project 658 hosts leadership conference featuring: Seth Godin, Andy Stanley, Peyton Manning, Malala Yousafzai, Rudy Giuliani and more on May 8, 2015.
Online, April 30, 2015 (Newswire.com) - When Project 658 partnered with a local church (Christ Central) to purchase and renovate at Kate's Skating Rink at 3646 Central Avenue, Charlotte, North Carolina, no one had any idea what kind of impact it would have on the community. One year after their official purchase date, the building and their staff are providing: educational programs, food preparation, sports programs, catering, job training and leadership development. It has truly become an important gathering spot on many levels for Charlotte.
It was no surprise when the Executive Director Dustin Swinehart and Project 658 catering gurus Ed and Nancy Price decided to bring the "Leadercast Live" event to the new facility on May 8, 2015.
It is one of the best professional development programs available in this part of the country. It is broadcast live from Atlanta, Georgia, and features some of the premiere speakers on Leadership in the country including: Peyton Manning, Seth Godin, Rudy Guiliani, Andy Stanley, Malala Yousafzai and an amazing list of other speakers. See the full agenda, speakers and schedule for the 8:00AM - 4:00PM event here: events.leadercast.com/live.
"It is rare that you can hear so many talented speakers in one eight-hour time frame at such an affordable price," said Michael Thayer, a Senior IBM Marketing Executive.
In addition to the speakers, lunch will be served by the Project 658 staff (included in the price of the event) and tours of the facility will be conducted upon request.
You can register for the Charlotte event here: project658.com/leadercast/registration/
There is still time to get involved. Interested parties can still register, if they would like to attend. If you would like to have a company table at the event, please reach out to aro at the contact provided and a representative will connect you with the appropriate party.
About Leadercast
Leadercast exists to inspire and equip Leaders Worth Following. Good leadership is the crux of all businesses, organizations, communities and homes, and Leadercast serves individuals and companies across all sectors that want to become intentional about raising their standard of leadership. Leadercast hosts innovative events and produces relevant content to provide time-starved leaders the tools they need to drive measurable actions and impact the lives of those they lead.
The Leadercast Live program is broadcast from Atlanta, Georgia, but will be seen in over 750 host locations around the world.
About Project 658
Project 658 is aimed at community transformation in Charlotte, North Carolina and is sending teams to serve at international partner sites. We help build communities of hope through the teaching of Jesus Christ and practical programs designed to support communities. We invite you to learn more about Project 658 through the pages of our website project658.com and welcome your partnership in our goal of building communities of hope.
Source URL: http://prweb.com/releases/Project658/05115Leadercast/prweb12694906.htm
Share: