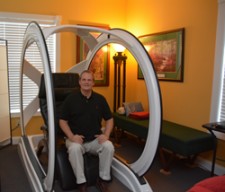 Charlotte Chiropractor Dr. Dirk Simons Creates New Web Site, Installs Magneceutical Health's Magnetic Resonance Therapy Device. 1 of only 50 in North America
Online, April 21, 2015 (Newswire.com) - Doctor of Chiropractic, Dirk Simons and his Partner, Diane Brinson invested a significant amount of time energy and capital in improving the Simons Chiropractic practice in the last six months.
"We needed a new web site and some digital marketing help. said Dirk Simons, owner. We found that service right on our adjustment table. It was Chuck Robbins who had been a patient of ours for over 25 years." he continued.
Robbins and his company aro marketing began working on the site in the fall of 2014. DirkSimons.com was fully functional in January 2015.
A major component of the new web site features Simons' recently installed Magnesphere. It is a leading edge magnetic resonance therapy device that requires no drugs, no surgery and no pain. The equipment is manufactured by Magneceutical Health and the unit in the Simons practice is one of only 50 machines installed in North America. Dr. Simons requires an appointment for the Magnesphere but his Chiropractic practice is walk in. For a free one time treatment visit the new web site here DirkSimons.com
Richard London, A Charlotte author and speaker was one of the first people to use the Magnesphere said,
"Parkinson's Disease has numerous symptoms and I battle them daily. The Magnesphere has provided me with a relaxing therapy that also helps control those symptoms." London Continued, "I was getting so many benefits from the device, I bought my own home unit."
Find out more about London at ahandbookforlife.com
About Dr. Dirk Simons
With over 30 years in Chiropractic Medicine, Dr. Dirk Simons is licensed and certified by the North Carolina State Board of Chiropractic Examiners. After earning his Doctorate from Palmer College of Chiropractic, Dr. Simons set out to establish his practice in Matthews, North Carolina. Today he is among the most respected and experienced chiropractors in the Charlotte area.
About Diane Brinson
Diane Brinson has a BA in Economics and a BA in Business Management from North Carolina State University as well as a Masters in Public Administration from University of North Carolina - Charlotte. She has helped out at the practice for almost eight years and specializes in Financial and Operations Management, Contracts, Strategic Planning, Marketing and Communications. Diane has over 25 years of Financial and Project Management experience.
Source URL: http://prweb.com/releases/DirkSimons/SimonsChiropractic/prweb12666616.htm
Share: