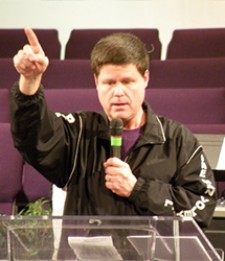 Bob Holmes takes on Vance High School teams, plus topics like bullying and suicide during Charlotte, NC, visit on Monday, March 16, 2015. Holmes has won over 16,000 volleyball games against pro sports groups (NFL, MLB and more).
Online, March 13, 2015 (Newswire.com) - Bob Holmes, World Record Holder and THE ONE MAN volleyball team, is in Charlotte on Monday, March 16, 2015, to speak to Vance High School teenagers from noon to 2:00 p.m. He will play the boys team, girls team, and faculty teams by himself. He has inspired kids and adults in this way for over twenty-six years! Bob has won over 16,000 games, including victories over the Baltimore Orioles, Buffalo Bills, Washington Redskins, Pittsburgh Steelers, and Miami Dolphins.
In addition to playing volleyball games against the school's boys', girls' and faculty teams, Bob will deliver an inspiring message of hope, encouragement and challenge to all of the students. In America, every 30 seconds, a teenager attempts suicide. Many of these kids have lost hope for a number of reasons, including broken homes, no adult mentors, no church support, etc.
As a part of the faith or business community, or a homeschooler, an invitation has been extended by Charlotte Mecklenburg Schools to be a part of this experience. It promises to be an inspirational and encouraging event. Interested in attending either the Monday or Tuesday morning private breakfast with Bob? Please respond quickly. CMS has given an "open door" to help positively impact the young adults of our community. Want to learn more about Bob's events and presentations? Go to www.beatbob.com
To attend the event, just show up at Vance High School in Charlotte, NC, from noon to 2 p.m. on Monday, March 16, 2015 (no charge). There are various other private meetings and sponsorship opportunities - contact aro Marketing for more information. If you would like to Donate directly to Bob Holmes's not-for-profit, go to: www.beatbob.com/donations.html
Holmes has appeared in over 5,500 gymnasiums, in front of over 3.5 million people. He has 16,400 wins | 365 losses.
"If it were possible to get the attention of 95% of students in an assembly, and to watch them walk away with maximum positive motivation, would that interest you?," asked Charlotte businessman Scott Saunders. Saunders is helping out with the Charlotte visit.
An assembly with Bob Holmes, "The One Man Volleyball Team," has accomplished that goal in thousands of schools. He then delivers the life changing message against bullying, suicide, drugs, alcohol, and not quitting.
Source URL: http://prweb.com/releases/BeatBob/VanceHigh/prweb12584671.htm
Share: